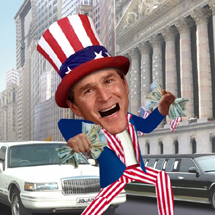 Another installment of Jib Jab's funny political animated shorts. This one is called "Second Term". I have to say, this one is probably the least funny of all their past work. To tell you the truth, its not funny at all. There is not even a trace of funny in it! Seems to me that the creator's had some kind of deadline to live up to or something then they rushed the production and uploaded this crap for our disgust.
Well, I can't say that I blame them, after all the Retard(Bush) won. Anyway, If you want to watch it, click
here
or click on the title of this post.